Key info

Birth (Year)

1917

Position in Red Army

Infantryman

Rank

Private

Current Age

25

Eye Colour

Green

Hair Colour

Dark Brown

Personality

Strict, demanding, easy to anger

Nationality

Russian

Allegiance

Soviet Union (Russia)

Background Information

His father took him away from their village when the Germans invaded in 1940. He is younger brother to Walter Lichte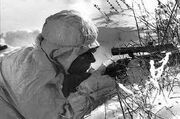 Dmitri Pavlov is a soldier in the Red Army, the soldiers of the former Soviet Union. He is brother to Walter Lichte and fought in the Second World War in The Battle of Stalingrad.
Appearances:
The Hunt: The story of two soldiers during WW2